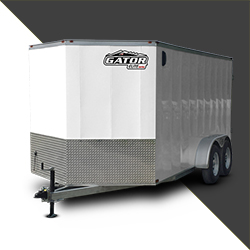 Discover our high-end galvanized steel enclosed trailers series designed for entrepreneurs or confirmed recreational sports vehicle fans. Our full-warranty Elite Series models made in Quebec are waiting just for you!
Looking for an economic enclosed trailer that will quickly meet your needs? Choose our Cynergy series, built according to American standards, with the most accessible price on the market.
Snowmobile and winter recreational vehicle lover? Remorque Gator has prepared a selection of enclosed or utility trailers especially designed for you to enjoy the snow year after year.